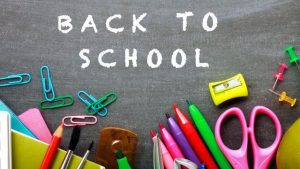 Getting organized for the school year can be stressful, but here are some tips to think about as we inch toward Labor Day and that first day of school.
GET BACK TO SCHOOL LIKE A BOSS BABY!
HAVE A STORAGE SPACE for jackets, backpacks and shoes makes getting out of the house in the morning quick and easy.
PREP SNACKS AND LUNCHES FOR THE WEEK after you food shop. Cut up veggies and fruit so snacking can be healthy and easily accessible for the kids to make their lunches. Yes, I did say kids make their own lunches!
SET UP A HOMEWORK AREA OR ZONE so your kids can be productive in their own space. This should be a distraction free zone so they can focus and get things done.
PLAN OUTFITS FOR THE WEEK AHEAD so mornings are stress-free.